We're on a mission to discover the resorts and caravan parks with the best water parks in Australia!
Last year, we were lucky enough to visit one of the best caravan parks in NSW with an incredible water park and my kids thought it was the best thing ever. We want to visit more of them! So this year I've started compiling a list of the best kids water park at the top caravan parks in Australia so I can create a list for us to work our way through. To get me started, I put a call out to the travel blogging community to ask them what their favourite resorts are in Australia with water parks.
Going on holiday to caravan parks with water parks means we can unpack, put on our swimmers and get outside the enjoy the sun without needing to go very far (unless we want to!) I'm excited to work our way through some of these! I'll be adding to the post over time too, so eventually I hope to have a huge list for you to refer to when planning your next holiday.
Best holiday parks in NSW with water parks
There are some awesome family holiday parks in NSW. We love caravan parks that offer self-catering cabins and tonnes of kids' activities.
Discovery Parks, Byron Bay

This is the aqua park that kicked off our obsession with kids' water parks. We discovered it while on a visit to Byron Bay when I was writing an article for Australia and New Zealand magazine. Not only is there an incredible water park with slides, sprays, tumbling buckets and all kinds of water fun, there is also a jumping pillow and great outdoor pools, plus plenty of sun loungers so the parents can sit and supervise in the sunshine. It was absolutely stunning and the kids didn't want to leave!
>> Check out the latest prices of Discovery Parks Byron Bay on Booking.com
Discovery Parks Byron Bay is the best Australia water park I've visited so far (but I've yet to visit the rest that follow in the post, so I need to up my game and get travelling some more!) You can stay in cabins or take your own caravan or tent. It's a short drive from the centre of Byron but to be honest, once you arrive it's the kind of places you can stay for the week and not leave because the kids will be entertained with non-stop outdoor fun.
>> Book Discovery Parks Byron Bay now at Booking.com <<
Best Queensland holiday parks with water parks
Queensland is the home of some of the best water parks and kids' holiday parks in Australia (aren't we lucky?!). Our tropical weather in the Sunshine State makes it the perfect place for some playtime in a water park, no matter what time of year you visit.
Paradise Resort, Gold Coast
Joshua of Australian Dad shares his favourite Queensland water park resort.
>> Check out the latest prices for Paradise Resort on Booking.com here
'Paradise Resort on the Gold Coast not only has one of the best pool and water park areas of any resort in Australia but is also the best family resort in the country.

Located in a convenient location in Surfers Paradise, you can walk to the main shopping strip. However, you may find it hard to leave the resort. Built especially for families, this resort is full of family friendly facilities and activities. In addition to the huge water area, there is a kids' club which is suitable from birth, ice skating, laser tag, indoor and outdoor playgrounds, a restaurant and so much more.

There is a full activity program with things like magic shows in the evenings as well as adult activities like cheese and wine tasting when the kids are in kids' club.

But of course, you are mainly interested in the water park! There are multiple pools, a small water playground and then a much bigger one. The photo above is only a small part of the area. There is also a huge inflatable water slide to go down as well.

On top of all of this, there are many room types available suitable for families of all sizes. If you are looking for a great family-friendly resort with a great waterpark, come here!'
Paradise Resort consistently comes top in the list of family holiday resorts in Australia and it has a very good reputation with excellent facilities to keep all the family entertained. It's not often you discover a kids' club that also takes babies and toddlers too, which can be a big relief for parents who just want a couple of hours of downtime (trust me, as somebody who doesn't have family living close by, this was something we always used to look for in a resort when we went on holiday in the early days). Another bonus for us is that they have some family rooms that can accommodation larger families which is another big plus!
>> Check out the latest prices for Paradise Resort on Booking.com here <<
Caloundra Oaks Oasis

Melissa from Thrifty Family Travels shares her family's favourite water park
>> Check out the latest offers for Oaks Oasis on Booking.com
'The Oaks Oasis in Caloundra on the Queensland Sunshine Coast has one of the very best waterparks we've seen at a family resort. The kids will absolutely love it here, and parents will love having a break while the kids are so busy splashing about.

The resort is in a super convenient location being within walking distance to everything. You can walk to the beach, walk to the supermarket and walk to a range of restaurants and shops too.

There is a range of different accommodation types here from hotel style rooms to self-contained apartments with 1, 2 and 3 bedrooms. We've only stayed in the hotel rooms which are very spacious and come with two double beds so enough room for a family of 4.

Of course the highlight of the resort is the 500m2 multi-level waterpark. Here you will find numerous waterslides, foundations and interactive activities. There is plenty of sun loungers and tables and chairs around the outside for parents to relax while supervising the kids. The water park is open from 9am to 5pm daily.

Other great facilities at the resort include the resort style swimming pool and spa, playground, putt putt golf, climbing frame and giant jumping pillow.'
This is another resort that always appears in the lists of top family resorts in Australia. Oaks at Caloundra looks really impressive. With it's lush, tropical grounds, its resort-style pool and plenty of other families activities as well as the incredible outdoor water park, your kids won't want to leave the resort for the entire holiday.
>> Check out the latest prices for Oaks Oasis on Booking.com <<
Cairns Coconut Holiday Resort
Sophie from Baby, Toddler and Kids shares her favourite kids' holiday park with water park
>> Find out the latest prices at Cairns Coconut Holiday Resort on Booking.com
'The Coconut Holiday Resort, found a 10 minute drive from the town centre, is our new favourite place to stay on our regular visits. It is the perfect spot for families wanting to be close to Cairns but with the option of not leaving the park for a day and still being entertained.

There are two pools, one with flume style water slides and another with a children's hot tub, as well as a splash waterpark. As well as the waterparks there are two giant jumping pillows, play parks, sports equipment for hire, go karts, outdoor movies and so much more!

On top of having great entertainment, the accommodation is excellent with a choice of budget studios through to multi room cabins for larger families. Everything is incredibly clean, the gardens are very well kept and you even get free jelly beans at check out!'
There is so much to do within an easy reach of the resort too, but that depends if you can tear the kids away from this Cairns water park!
>> Find out the latest prices for Cairns Coconut Holiday Resort on Booking.com <<
Looking for inspiration for your next family city break? >> Check out this post.
Best caravan parks in Victoria with water parks
OK, now bear with me – Victoria may not be quite as tropical as Queensland with its year-round sunshine, but if you're looking for a water park near Melbourne then this could be an option for you, even in the cooler months.
Big 4 Anglesea Holiday Park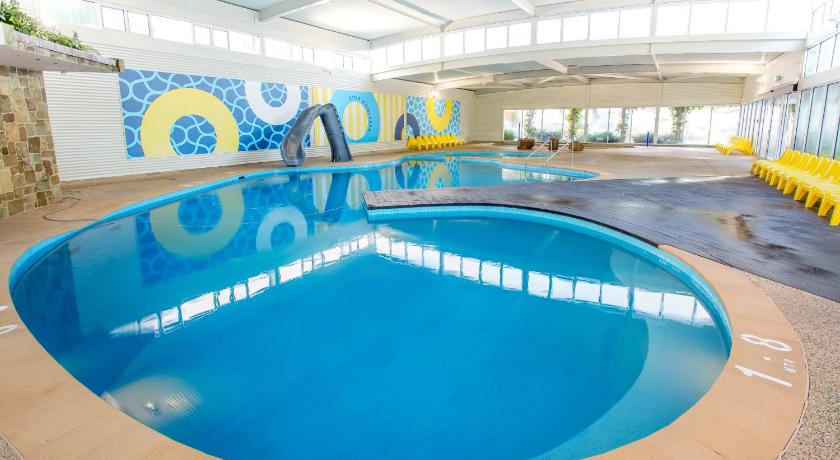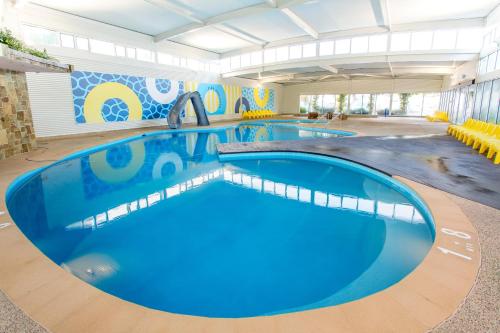 Erin from Love to Travel Stay Eat Do shares her favourite Big 4 water park in Victoria.
>> Check out prices at the Big4 Anglesea on Booking.com here
'Beautifully situated within walking distance to the river, beach and town shops; the Big 4 Anglesea Holiday Park is a fantastic place to take the family for a weekend getaway and to explore the spectacular Great Ocean Road.

Accommodation options aplenty – generous sized sites for tents and caravans, suites, 2 and 3 bedroom units, safari tents and bell tents. Clean and well-presented amenities, laundry facilities, a fantastic adventure playground, jumping pillow, giant outdoor chess, the cinema room with Foxtel, indoor games room for the bigger kids as well as toddlers, lovely gardens and of course the indoor waterpark.

The heated swimming complex includes a large pool and a shallower pool, a waterfall and waterslide, providing hours of entertainment for kids of all ages. There is lots of seating around the waters edge, for parents to keep an eye on their children while they play.

Anglesea is a lovely town along the Great Ocean Road, there are tonnes of family friendly activities outside the Holiday Park; including a skatepark, playground near the beach front, tennis courts, bike and walking tracks, the riverside to explore as well as the swimming beach.'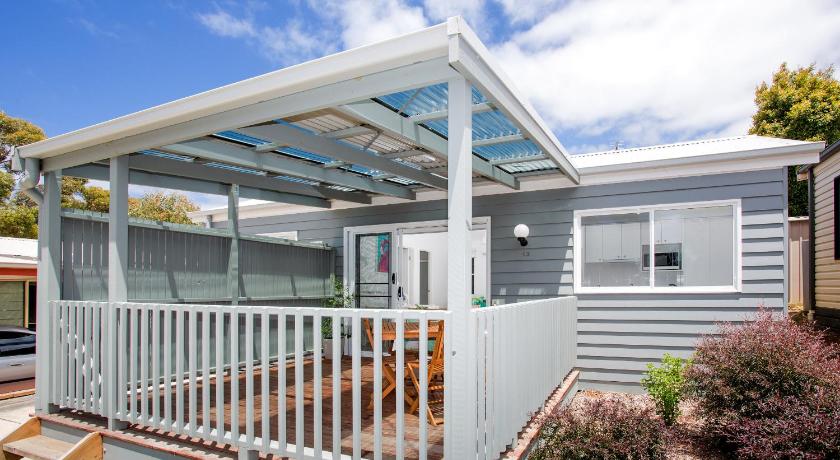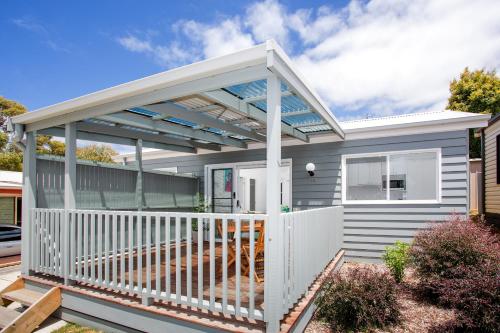 The Big4 Anglesea is one of the best caravan parks in Victoria. The important thing to remember here is that at the Big4 Anglesea, the heated swimming pools and splash park are inside – so you get to use them all year round, making it a great stop for a winter break.
>> Check out prices at the Big4 Anglesea on Booking.com here <<
Choosing a family holiday park with splash park
There are so many caravan parks with water parks in Australia and I'm looking forward to expanding this list over time to keep adding new ones. I think caravan parks for kids are a great option as you're surrounded by other families, there are plenty of things to keep the kids' entertained and if you choose a caravan holiday park with cabins you can cook your own food and save money on eating out. There are usually lots of BBQ points everywhere so you can enjoy lazy days outside surrounded by nature. If you have your own caravan, it makes it even easier as you can just rock up and begin enjoying your holiday!
Tips for choosing the best caravan parks for kids with splash parks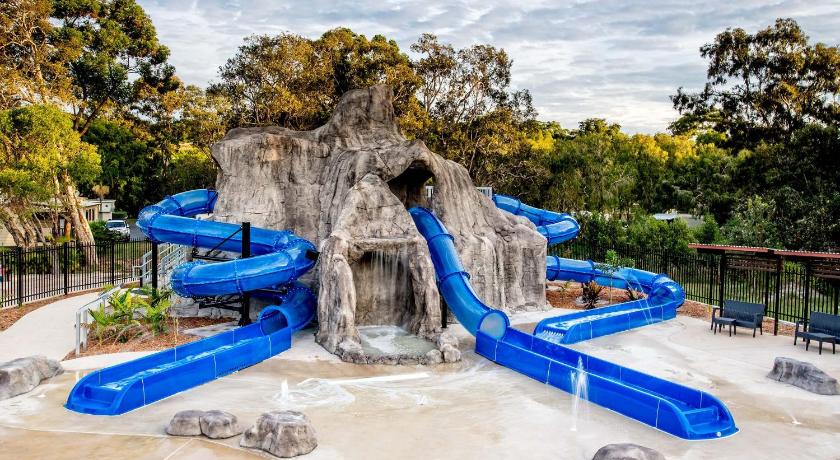 Here are my top tips and considerations when choosing the best kids' holiday parks with aqua park:
Look at the splash park facilities – do they look like they will entertain your kids through the holiday?
Does the size of the aqua park or splash park look suitable for your kids? If you have very young ones, is there a section just for toddlers?
Are there pools too so you can swim as well as play?
Are there lots of seats around the water park area so you can sit and watch your kids?
What is the accommodation like? Are there full cooking facilities and is there a washing machine (with all of that swimming you may need to keep washing and drying things!)
Is there a dishwasher – this is always a priority for me. Nobody wants to go on holiday and spend their days washing up!
Is there a jumping pillow or climbing frame?
Is there anywhere nearby the caravan park to get food or is there a take away or restaurant on site for days when you don't want to cook?
Can you get an early booking discount? When booking through Booking.com you can sometimes get deals where you book now and pay later, or where you get free cancellation so you can afford to book for later in the year (start your holiday shopping here!)
Are there any attractions or places in the surrounding area that you'd like to visit? If so, make sure you are staying for long enough to give the kids a really good chance to enjoy the water park at the caravan park as well – you need time for some lazy days.
Book your water park holiday today!
There are lots of water parks in Australia. Whether you go along for a weekend or stay for a week, get planning your next Australia water park holiday and create some awesome family memories!